For several years, there have been discussions around changing the House names. Until now they have been Drake, Hawke, Nelson and Raleigh, all names of English sailors and adventurers. We haven't been able to find exactly when the names were originally chosen, but with help from Jo Dalgleish, we know that they were the House names at the Derby Road school (where Shoprite is now) in the 1940s. Philip Christian's Boys School was opened on this site in December 1878. Perhaps this was when the House names were chosen?
Through discussion with members of Peel Heritage Trust, along with members of the school community, we realised that these names are not relevant to the children today and it has been decided that the new names should have a Manx significance as the previous names did not.
In September 2023, the four school House names will change from Drake, Hawke, Nelson and Raleigh and become Christian, Morrison, Shimmin and Dawson. The House names will now not only have a Manx connection (whereas the previous names did not), but they are each named after a 'Peel Worthy'. The children of the school were instrumental in deciding on the names and have enjoyed hearing about these important figures in Peel's past and recent history.
Each named individual was responsible for improving the lives of the people of Peel and becoming a role model who our children today can look up to and be inspired by. This is through their many varied attributes including working hard, philanthropy, being passionate about what they believe in, caring for others, music, language, sport – the list goes on.
I hope that you enjoying reading about the four chosen 'Peel Worthies' and that you agree with us that the school have made four excellent choices. We would like to thank Jo Dalgleish for her research and commitment to helping us with the transition of the change of house names. The information below was put together by Jo as part of the Peel Heritage Trust committee. An additional thank you to our School Council children and staff who have worked hard behind the scenes and delivered assemblies to inform all members of our school community about the change.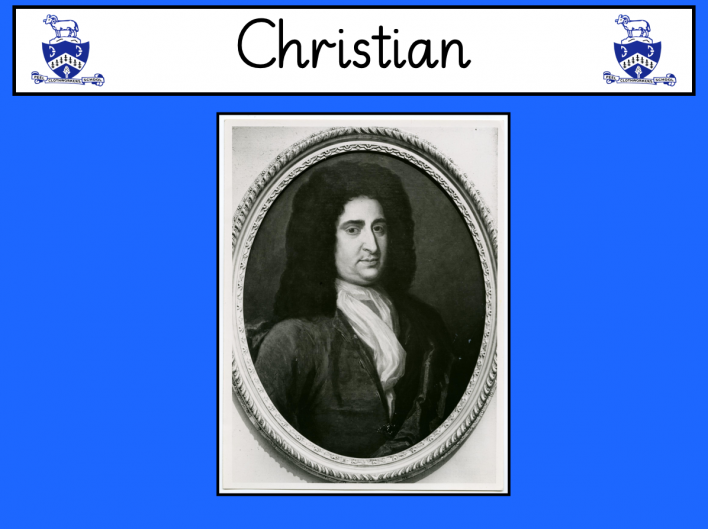 House colour: Blue
Former name: Hawke
New name: Christian

Philip Christian
1593- 1654
Mr. Philip Christian was born in 1593 in a cottage at Cotch Quarter in Rheast Lane, Peel. The house was a one-storied building with a thatched roof and measured only twenty-six feet long.
In 1607, at age fourteen, after learning his trade in a linen mill in Union Mills he went to London and was an apprentice for the Clothworkers' Livery Company. He was given 'Freedom of the Company' in 1616, progressed to a high rank, and prospered, becoming Warden of the Clothworkers' Guild. Philip married but did not have any children.He died in London in 1654 at the age of sixty-one.
He obviously thought a great deal about the place of his birth, as his Will was to prove. He had owned two houses in London and decreed that after the death of his wife, Rebecca, the rents from these houses should be used by the Clothworkers' Company to establish a school in Peel for the education of children. He wanted to help educate both boys and girls as his Will stated his intention to benefit 'the poorest men's sons and daughters'. This was very modern thinking for the Seventeenth Century when girls rarely got a chance to go to school.
Rebecca Christian died in 1670 and a share of the rent finally became due to Peel each year through the Clothworkers' Company.
It appears from the wording of the Will that a 'Free school' already existed in Peel. This may explain the fact that it took several years before the Trustees were able to fulfil Mr Christian's request.
In 1687 a building was purchased by the Trustees to be used as a schoolhouse and a dwelling house for the master. The school was situated below the Market Place around the area that is today known as Love Lane. Very little information was recorded about the school but it appears to have been run with varying success. The school was well maintained and the money from Philip Christian's Trust was regularly paid through the Clothworkers Company.
In 1840 the Clothworkers' Company generously increased the annual payment to the school set up by the Philip Christian endowment fund. The Company was informed of the poor state of the existing premises and offered to build a new school.
In 1842 a piece of land was bought in Christian Street and the foundation stone was laid. The school was opened on 27th June 1843 and was called Christian's Endowed National School. The school was also known as 'The Petty Free School'.
A new school for boys only was built in Derby Road and opened in 1878 At this time the Christian Street school was used for infants of both sexes aged four to seven years old. Boys would then move up to the new school and girls remained in the Junior part of the Christian Street School up until age fourteen. In 1900 a new mixed Senior school was built alongside the Boys' School and the girls were moved to Derby Road. Christian's Endowed National School in Christian Street remained in use as an Infant School. It was finally closed in 1953 when the present school, Peel Clothworkers', was opened. The building was renovated in 1986 and is used by the local community. It is called the 'Philip Christian Centre'.
In 1936 the Education (Peel Clothworkers' School) Act was passed by Tynwald to ensure that the Clothworkers' Company connection will be remembered in the name of any future school in Peel. However, when the QE2 High School was built in 1979, it was situated just outside the then town boundary, therefore the name does not break the law!
With the building of the new Peel Clothworkers' School the connection with the Clothworkers' Company was finally broken as the new school was funded wholly by the Department of Education. However, the school name and the Clothworkers' crest both above the front door and adorning the school badge are a reminder of the wonderful legacy left behind by Philip Christian for the children of Peel.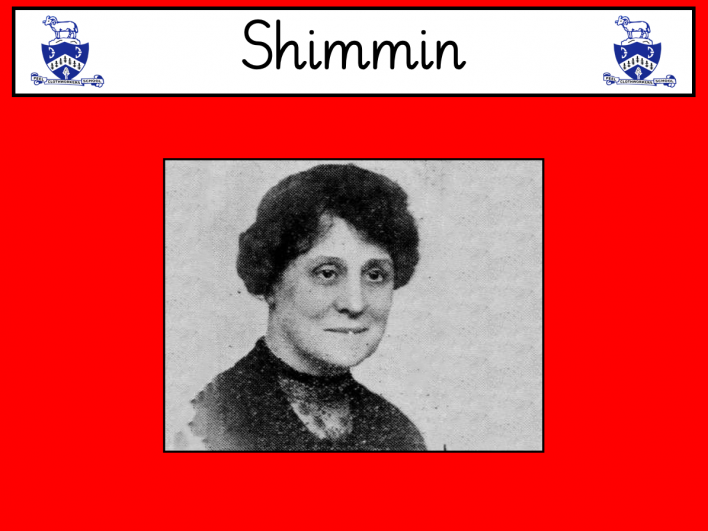 House colour: Red
Former name: Raleigh
New name: Shimmin

Marion Shimmin
1879 – 1942
Despite being the Isle of Man's first female MHK, little of great depth has been written of Marion Shimmin. After meeting with Kate Matthews, Marion Shimmin's great-grandaughter, we received this short biographical sketch of the politician, adapted by Kate from something written by her aunt, Jannis Shimmin. As it is a biographical sketch of greater length and detail than anything we have come across before, we post it here for others to enjoy and learn from. It is posted with thanks to Kate Matthews:
Marion was born in Manchester in 1879. Her father, Edward James Fallows was an engineer, specialising in industrial machinery and her mother was Caroline Hutchinson who had a special interest in classical music. Marion was the second of five siblings who all survived into adulthood. Her father was asked to work in an industrial complex in Russia at Lodz (now in Poland) and the family moved there for 3 years in 1885.
Marion trained and qualified as a music teacher in Manchester and taught for two years in Salford. She joined the Temperance movement as it provided a platform for her growing concerns about the appalling social consequences for families when the main breadwinners often spent their entire wages on alcohol. She campaigned against what is termed today as domestic violence, and visited slum areas in Manchester and Liverpool seeing and then writing about the squalor and grinding poverty.
Marion's parents, although not openly against her growing political views, encouraged her to take a musical "break" in Vienna (!), where in 1904 she met Christopher Robert Shimmin from Peel. Her views exactly matched those held by Mr. Shimmin, in fact he had spent time in Liverpool painstakingly reporting and mapping the insanitary slum accommodation for the working. Marion and Christopher married at St. Aidan's Church, Bamber Bridge, Lancashire on 17th September 1906 and then settled in Peel where she tutored and taught music at the Old Methodist school in Tynwald Road. They had two sons; John, whose middle name was Fallows, and Ffinlo.
Marion supported and helped to get Christopher Shimmin elected as MHK three times and encouraged him to expose unfair practices against the working people of Peel. Especially injustices which affected women and children; namely food prices, fraudulent weights and measures, education and low wages on the boats.
Her commitment to improve the quality of life for ordinary working people was recognised for, after the death of Christopher in 1933, she herself was elected as MHK for Peel. This was not a sympathy vote but one which recognised her integrity and strength of character and her determination to try and effect change.
Marion was enormously proud to be part of Tynwald and took her role as the first woman member very seriously. She told her sons that she regretted not being Manx and was most knowledgeable about Manx culture and the special historical context of the Isle of Man in the British Isles.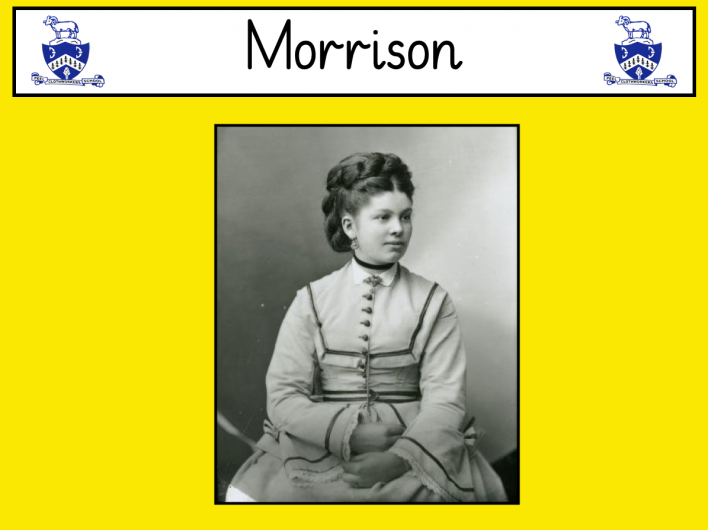 House Colour: Yellow
Former name: Drake
New name: Morrison

Sophia Morrison
1859 – 1917
Miss Morrison was the daughter of the local grocer in Peel and a hard working member of various Manx societies. She was born in Peel in 1859 and died there in 1917. The Morrisons were a well-established Peel family. Sophia's grandfather Morrison was a local cooper and her grandfather Crellin had a farm near St. Johns.
Sophia attended Peel school and took up music studies with her relative and friend, Edmund Goodwin. In receiving honours from Trinity College of Music, she was the first person on the island to pass a music college examination
She cared passionately about what it meant to be Manx and helped record and identify the different features that make up Manx culture.
Collector of Tales
Sophia is most well known as the author of Manx Fairy Tales. This is only the tip of the iceberg in terms of her work as a folklorist. She collected her material directly from the source, visiting people in their homes or talking to older fishermen on the quays.
The significance of Sophia's work was not just in the act of collecting but also in her desire to let the world know about it – whether a scholar, general public or fascinated child.
Manx Fairy Tales was first published in 1911 and reprinted in 1929 with the title pages for each story illustrated by Archibald Knox.

Her legacy:

When Sophia Morrison died in 1917 many people felt that a 'light' had truly gone out and the Manx Cultural Revival had lost one of its greatest supporters, but her legacy lives on.
Yn Cheshaght Ghailckagh (The Manx Language Society) continues to flourish and many Manx speakers still learn using her cousin's First Lessons in Manx. The Manx language is now taught in all the Island's schools and a generation of children have been taught through the medium of Manx at the Bunscoill Ghaelgagh in St John's.
Sophia Morrison inspired future generations – particularly her protégé Mona Douglas. And the material evidence that she collected continues to weave its way through our modern lives and contributes to a truly vibrant culture.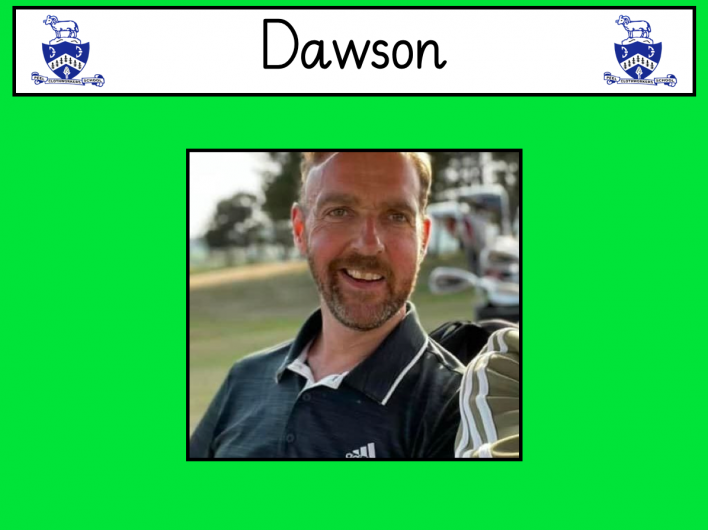 House colour: Green
Former name: Nelson
New name: Dawson

Kelvin Dawson
1973 – 2022
Kelvin was born on Tuesday 19th June 1973 to Peter and Lesley. He was named after Australian word champion road racer Kel Carruthers, who won the 1970 Lightweight TT on the same day Kelvin's big brother Robin was born.

He spent his first 10 happy years growing up in Port Erin and it was in these formative years that he developed his love of both football and golf. Being the youngest brother he was actively encouraged go in goals for regular kick-abouts and soon made the Rushen Primary School team and shortly afterwards he joined Colby in the Junior League. With his Peel family connection he steered well clear of joining Rushen United! Long late 1970s summers were spent golfing on the Breagle Glen and Rowany pitch and putts, before progressing to the Rowany Golf Club junior section.
Kelvin's Port Erin years were brought to a close in 1983 when mum Lesley tragically passed away aged just 38. It was at this difficult time that the family returned to Dad Peter's hometown of Peel, to spend more time with Gran Isobell, Auntie Judy and Uncle Frank Windsor, a.k.a. 'Duke'. Kelvin thankfully settled into Peel life quickly, making a lifelong best friend on his very first day at Peel Clothworkers. The other boys in Year 6 readily welcomed him as they had a decent football team but no goalkeeper.
It was a natural step to join the junior ranks of Peel AFC led by Roly Haughton. Kelvin loved all sports and would go on to represent QE2 at rugby, cricket and table tennis, as well as football. Golf was also an easy transition with a move to Peel Golf Club and the junior section overseen by Godfrey Kelly. Here his handicap tumbled, culminating in selection for the Junior Island Northern Counties Team. He played scratch league for Peel and was part of the team that attended the England Champion Club Tournament in 1992.
After leaving QE2 school in 1989 and a brief, but unsuccessful foray into Banking, Kelvin joined the family tyre business with Dad Peter. This was where he would remain for the next 30 years. In many ways Kelvin became the face of the business, in his typical way, regularly doing favours for the many people that he knew. He loved the garage and working alongside his dad, meeting and chatting to people and everything that came with it. He'd often describe himself as a 'problem solver' and 'part of the common-sense gang'. When the business moved to Peel this played into his hands of juggling work alongside his other commitments of family, football, golf and charity work.
Kelvin married Peel girl Marie Brew in 1999 and they had three daughters - Ana, Lea and Hollie. All three girls attended Peel Clothworkers' and were encouraged to follow in their father's footsteps through sporting interests, particularly golf.
With the garage being based in Peel, Kelvin seized the opportunity to take up an additional career as a retained firefighter at Peel Fire Station. This turned out to be the making of him, he was extremely proud to be in the service and in time took up the position of Leading Firefighter. He always said that joining came at the perfect time as he was coming to the end of his football career – he was just moving from one changing room to another and the banter was just the same!
Kelvin played a significant part in Peel's sporting success over the years, making 578 appearances for Peel AFC, and playing in the scratch league team at Peel Golf Club. He stood as chairman of the Tommy Clucas Memorial Fund since the charity was set up 17 years ago. The Fund is a registered charity that was created in 2005 by friends and family of former Peel footballer and MGP rider Tommy Clucas.
An extension to Peel AFC's clubhouse is being built on top of their current building at the club's Douglas Road site and one of the rooms will be named the Kelvin Dawson Community Hub. Ideas for use include children's parties, school holiday activities, nutrition and well-being focussed presentations and activities and sports coach development courses. 'Kelvin's room' will fittingly look over Peel golf course, as the Dawson family is well known in the island for their golfing expertise, with daughters Lea and Ana both island women's champions.
The plans are based on ideas Kelvin had at the time of building the Tommy Clucas Sports Hall, which was opened in September 2013 after 9 years of fund raising. He often talked about 'the Big Picture', much of which referred to what he saw as the opportunities for Peel to have new or improved community facilities.
Kelvin's determination, enthusiasm and commitment to succeed was instrumental and without him, simply, the sports hall would not be here now. He demonstrated those strengths in abundance throughout his illness and is an inspiration to everyone who knew him.
Kelvin died in 2022 after a brave battle with brain cancer and was a much-loved member of the Peel community.